I think we're all secretly still children at heart. I certainly do not consider myself an adult.
So imagine my excitement when I got an invitation to At Bristol's After Hours event – the chance to mess around in a science museum, at night, after hours, have a drink and play on all the exhibits. Even as a grown up. AWESOME!
At Bristol, for the non-Bristol folk, is a ginormous science museum just off Millennium Square, home to absolutely loads of amazing science exhibits, educational bits and pieces and fun things to do. It's a fantastic day out to have with the kids, but not having any of my own, it was one of those places I had never visited before.
After Hours takes place every few months, with the idea of opening up one of Bristol's best attractions to a wider audience. I took my good friend Jude along because like me, she is a nerdy science child at heart, and I knew she'd love it.
We set off from Bedminster and went to cross over Pero's bridge and encountered the first excitement of the evening – the whole thing has been turned into an art exhibition, and was bathed in a mysterious fog. It's part of an interactive art installation 'Fog Bridge' by artist Fujiko Nakaya, celebrating Bristol as European Green Capital 2015. If you want to go along and check it out, it's running til the 22nd Feb!
Each event is centered around a different theme, with different events taking place throughout the night. With it being Valentine's Day and all this month, this event's theme was 'Love and Luck', with events such as heart dissection (which I was really sad I missed out on) and neanderthal speed dating, which I wasn't brave enough to try out!
Safely inside the venue, we were given our wristbands and ushered into the main area. The lights were low and there was a DJ belting out some choons, making a proper Friday night atmosphere (well, as much as you get with a science museum!). It was really nice to see people of my own age acting like little kids on some of the interactive exhibits. Wanting to get stuck in ourselves, we made our way up to the Animate It bit upstairs and did some Aardman-style drawings, and even got to have a go at animating our own little film!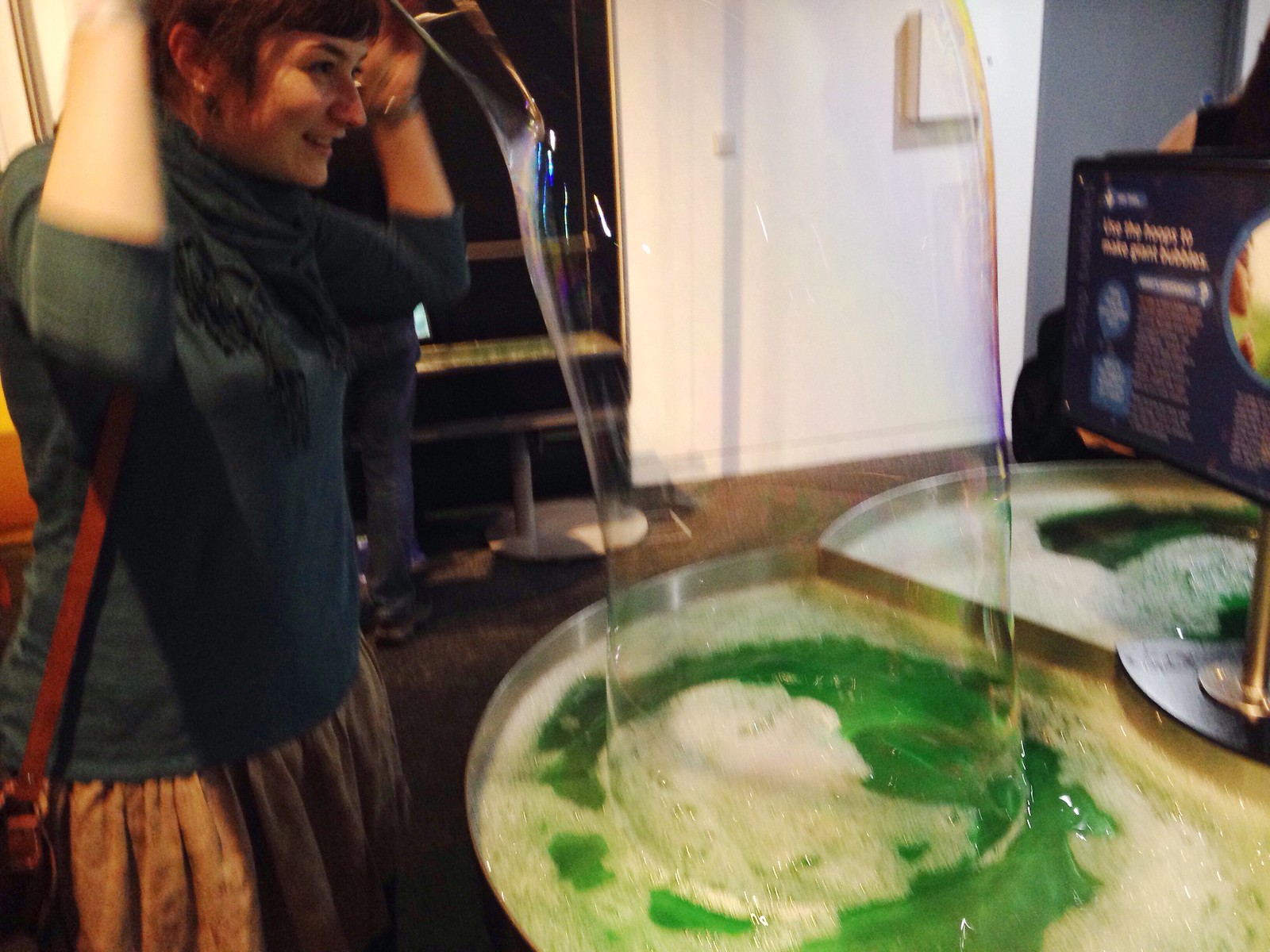 Heart dissection!

There was so much stuff going on that to tell you about it all, I would be here all night! Amongst all the fun happenings and events throughout the evening my highlights were making giant bubbles big enough to go over your head, taste-testing my way through chillies right the way up to 500,000 scovilles, playing 'Fancy' on some giant wind pipe type things that you hit with paddles, a mysterious floating ball, playing with different coloured lights and shadows, and one of my favourite things to do, dressing like a bee!! I walked around in that bee outfit for a good 15 minutes until I could no longer bear people's sideway glances at me. If anyone at AtBristol is reading this, please can I buy one from you?! It made me the happiest person ever.
If you fancy getting a piece of the late-night science action, then there is another After Hours event happening on the 6th May, with the theme of Food. Yes, FOOD! You can betcha I'll be there. Will you?
Find out more about At Bristol and After Hours here.